Subj:   Re: Spring Bolt
Date:   10/11/2020 8:44:47 P.M. Eastern Standard Time
From:
To:       rrrstair@aol.com
Roger,
I just want to say, thank you very much. I received my order on Friday and just finished my project completely and looks perfect. I ordered too many of the epoxy but it's ok. Thank you very much once again for your fast response and instructions on how to use the product.
Fernando Flower 
---
Subj:
Satisfied Customer!
Date: 12/19/2018 4:41:36 P.M. Eastern Standard Time
From:
To:
rrrstair@aol.com
Roger,
Just a quick note to tell you I LOVE this product. This was the first time using it and I will use it for every project that calls for it. Also telling all those that might have use for it how great it is. Thanks for all your help .
Dru G.
---
Subj:
Spring-Bolt Installation photos soon to be attached
Date: 8/13/2016 9:08:59 P.M. Eastern Standard Time
From:
To:
rrrstair@aol.com
Mr. Rock,
I couldn't wait until the entire project was finished to tell you what an amazing product you have developed. Today, I installed the initial purchase I made from you a short time ago. This involved attaching a volute rail to a standard volute newel post.
The trick? It was all already assembled on the staircase in my foyer! At some point during the construction I realized that the standard method of simply epoxying the rail to the newel post was horribly inefficient and messy. It was that night that I started looking for an alternative and stumbled across the Spring Bolt System. After watching the video it looked like a great idea so I ordered.
It took me all of about 15 minutes to make the changes to my post and volute and get the springs installed. It was absolutely a "no brainer". Once I had another pair of hands to help with turning the 15 foot railing (attached to the volute! Remember, it's already installed!) it took another 5-10 minutes to mesh the 2 pieces together for an absolutely tight, solid, perfectly perpendicular joint. I couldn't believe how easy it was yet how perfect it turned out!!
After using the system on the new (and beautiful) entry step I'll be ordering more for the upstairs safety railing as it is so much more important to have a tight joint on.
Your Spring Bolt System is phenomenal. I can't imagine that anyone would build a home staircase with ANY other method of attachment or, as in my case, upgrade a staircase with ANY other method. I had to go searching for your system. I'm going to make sure that nobody I know has to do that. I'm telling EVERYBODY. I'll be sending pictures when it's all finished but I had to tell you how great your product is now. Stand by for my next order!
P.S. – As you can tell from my signature I'm not a contractor or builder. I'm just a guy. If your system is that easy for me…
Rick R.
---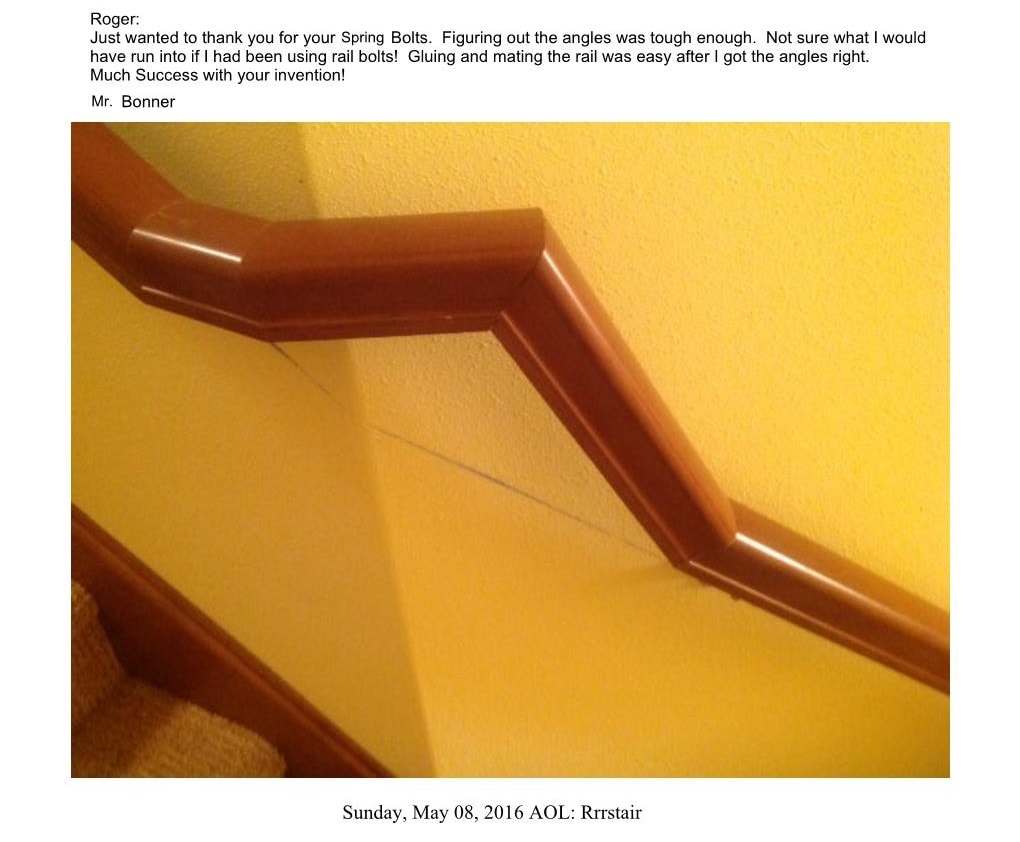 25%
discount on all
orders over $100
Use coupon code Save25
30%
discount on all
orders over $200
Use coupon code Save30
Automatic
Free Shipping
on all orders over $200
Get In Touch Now
Rock Lock Fastening, Inc.
Contact Roger Rock